My attempt here is to display the force that is Marcin Gortat and how he led this team to victory. He was the MVP of the game despite stars like Dragic and Telfair playing great. The people in the audience were not at US Airway's Center; rather, they were at a Polish slaughterhouse: Marcin's Block Party.
Block 1
Gortat seemingly jumps 2 feet higher than both guys in front of him. This one really pumped up the team afterwards.
In this one, Gortat goes toe to toe with his victim and then bounces it off the glass to keep it alive. We shall shortly see how his blocking ability has led to keep the offense alive too.
Block 3
Here Gortat covers all areas of the rim. He stops the attacker in the center and then quickly rotates to his shoulder and gets his hand right on there. Gortat is able keep the ball in bounds on quite a few blocks and Telfair quite literally outruns the entire defense all by himself. Momentum keeps increasing...
Block 4
Gorat comes up with one of his 2 blocks in the final minute of the game. This one, just like earlier in the quarter, leads to an easy transition bucket. Gortat is able get the perfect block, keep it in bounds and not commit the foul. Credit Beasley too for immediately looking to score and making the perfect pass.
Block 5
It is getting amazing how fast Gorat is able to keep up with penetrators. He is actually able to change direction entirely on this one and keep up with his man. Dragic was beat from the beginning and Gortat was there to keep the game alive.
___________________________________________________________
In context, he was out for quite a bit of the game already with what seemed like a concussion where he laid on the floor for a few minutes. A true warrior indeed. What does he have to say post-game?
"I should have had four more if I just had slightly better timing and a little more wind in my body," said Gortat. "The last three minutes I gave up about two or three layups and everyone was upset. So on the fourth and fifth times, I went way way harder. And, I'm happy I actually hit the ball, because if I didn't hit the ball I would've broken someone's arm probably because I swing so hard."
___________________________________________________________
Marcin's Turn
When Marcin was not blocking shots, he was receiving passes from Steve Nash Michael Beasley and slamming them home. This one was a beauty.
________________________________
CAPTION:
Marcin: Hey Kyrie! Did you want to shake my hand?
Kyrie: Mannnn. I got to get out of here.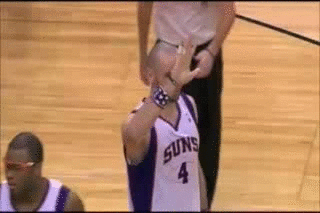 SHARE YOUR OWN CAPTION