Yep, you read that right.  An ESPN NBA writer admitted he was wrong.  At what?  In this case, it was saying that the Phoenix Suns shouldn't have signed Steve Nash.  Hollinger explains it in a lot more detail than I want to get into here.  But suffice it to say that he backs up his admission with solid stats.  He points out several other point guards that have aged gracefully including John Stockton and Sam Cassell.
Unfortunately, the article is for ESPN Insiders only so unless you have a subscription, you won't be able to read the article.  Here's the link, just in case you do have it.
The scary thing to me is now that he's admitted he is wrong, is Nash going to get hurt and not be able to play the rest of the year?  Let's hope not.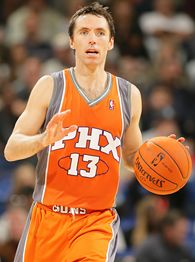 Can he continue to age gracefully?