It's easy to carry a lifetime of hate for players on other teams who shot daggers into the Suns' hearts and hopes in playoffs past. Just saying the names of players like Manu Ginobili, Tony Parker, Mario Elie, Kobe Bryant and Derek Fisher can make a Suns fan's blood boil.

But what about lingering hate for a current or former Sun? Is there such a thing?
This is a tough one. Folks in Phoenix don't naturally harbor hatred toward current or former Phoenix Suns players. Sure there's disappointment when a player does not reach his potential, which can often be perceived as "hate" by apologists for that player.
But long-lingering, collective hate among the fanbase? That's a tough sell. Yet there are one or two one former Phoenix Suns who stand out as universally-hated players to me. That they even played for the Suns at one point still makes me shake my head in disgust, and ruins an otherwise loving memory of the Colangelo's tenure.
Phoenix Suns fans from "back in the day" in the early 90s - the Charles Barkley era - remember how the Houston Rockets shoved the Suns out of the playoffs in consecutive seasons in 1994 and 1995. Both times, the Suns took the early series lead (2-0 and 3-1) only to lose in 7 games.
Hakeem Olajuwon was the Rockets' best player and one of the most dominant in the game of basketball. He was bigger than any Phoenix Sun and controlled both ends of the court. But Suns fans harbor no ill will toward Hakeem. In fact, I cannot recall even a single bitter fan throwing barbs at Olajuwon's character or game, then or now. For some reason, we loved the guy even while he was killing the Suns.
But that doesn't mean we loved all of the Rockets. In fact, quite the opposite. I cannot, to this day, name another player on that Rockets team that we don't generally dislike no matter how many more teams they played for. In 1994, Otis Thorpe was the team's second-best player, manning the front line with Hakeem. In 1995, they'd added Clyde Drexler. I'll bet many Suns fans don't recall Otis or Clyde that much.
The guys that I remember, and hate, are three role players from those teams who didn't start but always found a way to hit a dagger shot to keep the Suns from prevailing.
Sam Cassell. Robert Horry. Mario Elie.
Just typing those names raises my heart rate.
A good sign that a player got under your organization's skin? Overvalue him at some point in the future. Still unfathomable to me is that, just a year later, the Suns traded their sun, moon and stars for two of those guys! Two guys who hadn't even established themselves as NBA stars. Yet they'd played well against the Suns, so why not acquire them?! Ugh.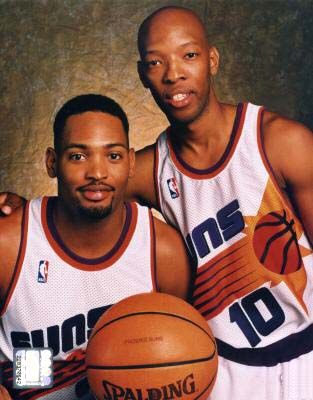 Robert Horry hated being in Phoenix and Phoenix hated having him. He brought nothing to the table and even once threw a towel in coach Danny Ainge's face during a game, apparently unwilling to put forth the effort that Ainge was calling for. Horry was traded very quickly after that to the floundering Lakers for former Sun Ced Ceballos, who himself had caused a stir by taking a long, unapproved, jet-skiing weekend off in the middle of the season. The fact that Horry went on to win six more championships as a bit player - one of them after knocking Steve Nash into the scorer's table - just adds more dirt to the bad taste he left in Suns' fans mouths.
Sam Cassell did not even last as long as Horry. He was traded barely two months into his first Suns season to Dallas in a package for Jason Kidd. Dallas had tried and failed to create a young super-team of guard and wing talent in Jason Kidd, Jim Jackson and Jamal Mashburn. The purge started with Kidd going to Phoenix. A year later it was over when Cassell was yet traded again, this time to New Jersey along with Jackson for Shawn Bradley and others.
So at least the Colangelos wised up and got rid of those guys quickly.
Cassell grew into his own after hitting New Jersey, his fourth NBA team. He played well, to the tune of 19 points and 8 assists per game, and then later made an All-Star team in Minnesota next to Kevin Garnett. (Interestingly, Cassell went to Minny for Stephon Marbury, who was later traded to Phoenix for Jason Kidd, who had earlier been traded to Phoenix for Cassell).
And then there was Mario Elie.
Mario Elie himself had a long career as a bit player that started out by hitting daggers against the Suns in the playoffs. Elie eventually played for several NBA teams over an 11 year career that culminated in a bench role in Phoenix in the 2000-01 season.
It is safe to say that, as former Suns players, these three still generate the most angst in this Suns fan's psyche. I loved Jerry and Bryan Colangelo, but I love them less because they had the gall to acquire each of these guys in future years to play for the Suns. Luckily, their Suns tenures were short.