Pretty sweet pickup to kick off this Friday. Seller has a vintage, life sized Kevin Johnson poster for sale, short shorts and all. No pinholes reported in the KJ poster, though the seller does mention that there are some "fold over marks from being rolled up for so long." Included in the sale is a Charles Barkley poster, the same one I had on my wall as a punk 12 year old Suns fan in Evansville, Indiana. A smoking deal in my estimation, after shipping both posters are yours for $21.20.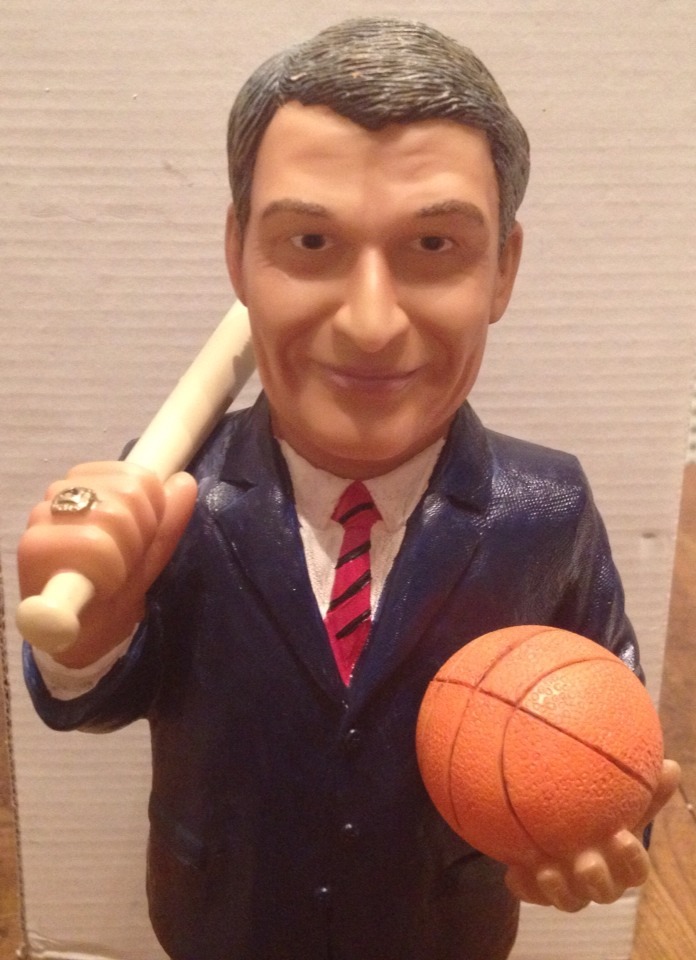 Very cool item here. First things first, though it may look the part, this is not a bobblehead. This Jerry Colangelo figurine "celebrates Jerry's affiliation with the Phoenix Suns and the Arizona Diamondbacks complete with his World Series ring!" Logos of both teams are included on the base, which also indicates this is from a celebrity roast on November 8th, 2003. Sounds rare for sure, though the price tag is likely to scare off many Suns fans. If you can part with $105 after shipping, it's headed your way.

If in fact however $105 is too much simply to display your allegiance to the Suns on your work desk, I've found a bargain for you. For considerably less you can scoop up two Suns bobbleheads, Kurt Thomas and Raja Bell. Thomas was in Phoenix for the 05-06 and 06-07 seasons, appearing in 120 games and averaging 6.4 points and 6.6 rebounds for the Suns. Bell was a Sun for four seasons, from 05-09, contributing 13.4 points a contest. Remember that time fondly, throwback jerseys and all, for 22 bucks or less after shipping.

I know that to a certain population this can be collectable, though I'm not suggesting this is worth anymore than what the seller is seeking. There's two available, and for just 11 dollars you can be the proud owner of a 1995 limited edition Phoenix Suns 1939 Chevy Sedan Matchbox Car. If this is the sort of thing your into, click on the seller's page. He's got a ton of stuff including some sort of Derek Jeter semi truck thing.

This may not appeal to anyone, it's just an opportunity for me to inform the younger crowd about "The Sporting News." It wasn't ESPN the Magazine, which is garbage and should only be purchased at an airport. It wasn't Sports Illustrated, which will give you a copy of Madden, a fleece blanket, and a Florida State National Championship package for a nickel an issue. It was real sports journalism, gloss free and all. After being published weekly for 122 years, it went biweekly in '08 and monthly in 2011. Today it's only available online. For the fan that values substance over style, pick up this copy featuring Paul Westphal and Walter Davis for a ten dollar bill.

Kind of a bizarre item. Evidently this was a stadium giveaway. And evidently the recipient of this light was fortunate enough to have the opportunity to acquire the autograph of Steve Nash. I'm supposing that this individual did not have another item to have signed, and therefore had Nash sign the light. Which would be pretty cool, were it not for leaky batteries rendering the light unusable. Shipping is six bucks, you can buy it now for $80, though if you really want it, start with the opening bid of $30.

I included this mostly to make you guys aware of the seller, who has a ton of these original black and white press photos. I found some really cool Tom Chambers 8x10s. Most of these sell for between $15-$20, and another $3 to ship, though I'm sure if you buy a couple that cost will disappear. From the seller: "the reverse of press photos usually have at least one of the following: period writing, photo credits, editors notes, filing date stamps and newspaper clipping." As for the subject in this photo, the 7-foot 235 pound Kelley played center for 10 seasons in the Association, three with the Suns. For his career he averaged 7.0 points and 7.6 rebounds. If you're curious he's reading the media guide.

This is among the cheaper autographed Suns items you'll find, and certainly the cheapest we've featured on Suns Swag. This is yours for 35 bucks after shipping. The basketball alone has to be worth half that. Right? Included, believe it or not, is a Certificate of Authenticity. Phoenix Suns hologram and everything. Brown wasn't in Phoenix long, 118 games across two seasons. Off the bench he averaged 10.7 points a game. 35 bucks is worth the conversation piece. Unless you blew your extra cash on the denim jacket last week.

What to say? Another gnome. $15 after shipping. Would look great next to this guy.

Hockey season is upon us, so celebrate your Suns and the return to the ice with this vintage Starter hockey jersey. I went ahead and double checked, and this is the cheapest you'll find one of these on eBay. It's $60 after shipping, though the seller will take offers, so try to grab it for half of that. You'll find other ones out there, but they're hideous and run north of $100. This one's a bargain.