An interesting item here. Novelty ties are nothing new, but while many will feature a team or even a player, we have here a novelty tie celebrating an event. Preowned, this can be yours for less than 18 bucks, but the seller is taking offers, so try and get it for half. Next time you need to look professional, do it with this tie featuring Charles Barkley, Kevin Johnson, Tom Chambers, Richard Dumas, Danny Ainge, Dan Majerle and Paul Westphal. Too busy of a look? For a few more bucks you can celebrate Barkley's 1993 MVP year here.

Speaking of the Round Mound of Rebound, pass on the throwback jersey and catch some eyes in this vintage t-shirt. The Awesome Adventures of Charles Barkley can get a little complicated so let me summarize. He slams to the left, he slams to the right, or he'll come right at ya! 30 bucks and it's yours.

Suns-Champion-Basket-Natural-Black" height="209" width="209" />
Never miss an opportunity to let others know where your NBAllegiances lie. This Phoenix Suns picnic basket includes two wine glasses, two porcelain plates, stainless steel flatware, and two napkins that match the basket's interior. It's made of willow with dark brown leatherette accents, and has full-wrapping closure straps, an overlapping lid, and sturdy suitcase-style leatherette handle. If you've got $151 burning a hole in your pocket it's yours.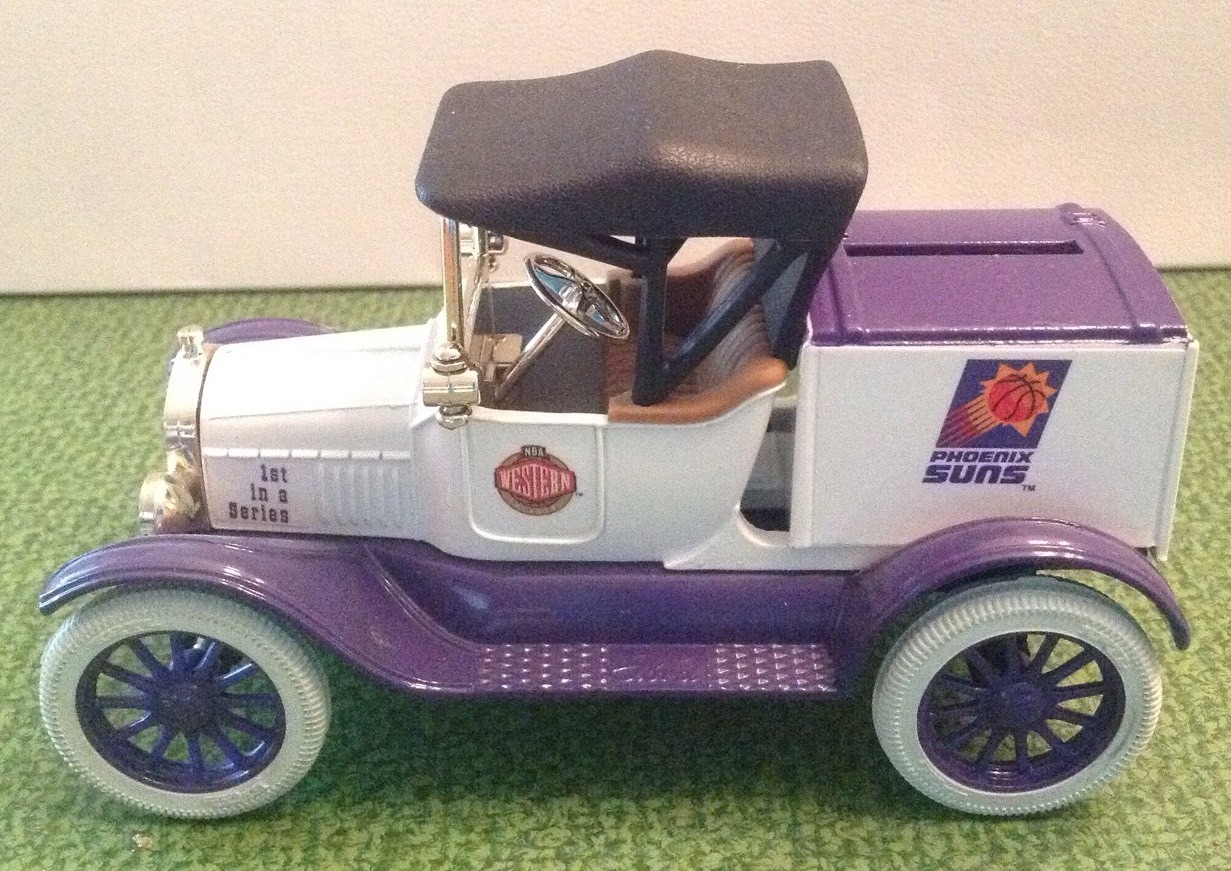 If this were buy it now, I know exactly who would buy it. As it is, I hope it sees some bids, because this is pretty cool. The Ertl Company is an American toy company best known for its die-cast metal alloy collectible replicas of farm equipment and vehicles. This offering includes a key and features the old Pacific Division of Golden State, the Lakers, the Clippers, Phoenix, Portland, Sacramento, and Seattle. Bidding opens at $17.75, about 8 bucks to ship.

150 piece Gorilla puzzle in a can, the best break to any work day. Seller indicates the can has a small dent in the side, but the item is otherwise "like new." There's no mention of the puzzle missing pieces, though you may want to follow up. You can end the auction for a 5 dollar bill, though the shipping is a steep 13 bucks.

Bonus unrelated swag here. We featured an Amar'e Stoudemire locker in the past, so you picked up that one, grab this Boris Diaw locker to go with it. These were stadium giveaways in the 2006-07 season along with Shawn Marion, Raja Bell, and Steve Nash. As a bonus you get a never inflated Suns soccer ball. Bidding starts at $13, buy it now is $26, shipping is $10.55

The newest of Suns Swag here. 1000 lucky fans recently received these three playing cards courtesy of Budweiser, featuring Serene, Brooke, and Amy Jo of the 2014-15 Suns Dancers. 500 BTSOS Bonus Points if you can figure out a game to play with the 3 of spades, the King of clubs, and the 10 of clubs. Buy it now for 10 bucks, free shipping.

Socks! Celebrate one of your favorite Suns with this size medium, slightly faded Elliot Perry t-shirt. Perry was in Phoenix from 1993-1996, returning for a victory lap in the 2000-01 season. As a Sun Perry averaged 7.4 points and 4.1 assists in just under 20 minutes a game. For his career, Socks scored 6.3 points a game with seven different teams. Bidding starts at 5 bucks, another $5.50 to ship.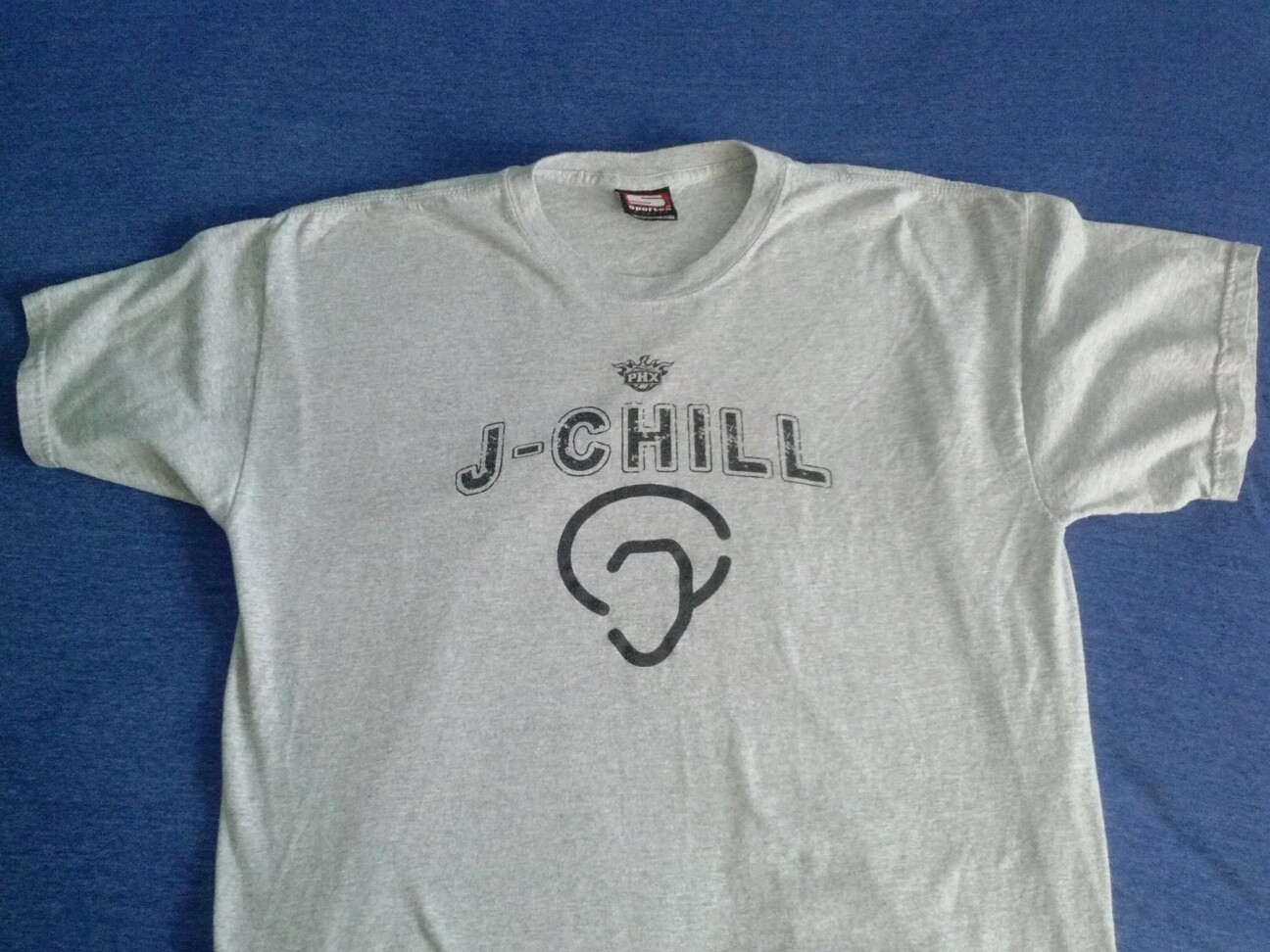 Buy this with the Socks shirt. Do it. The seller doesn't even know what they have here, this is listed as a Jared Dudley t-shirt. Josh Childress was in Phoenix for two seasons, appeared in 88 games, averaged 15.7 minutes a game, and how does this warrant a t-shirt? Who cares, pick it up for a 10 dollar bill after shipping.

The perfect addition to your 1993 NBA Finals tie. No buy it now available, bidding starts at 10 bucks, shipping is 3. I went ahead and took another look, yes, it will go great with the tie.