Bobbleheads are played out. MLB has popularized players depicted as gnomes for giveaways, but the Suns have always remained a step ahead. This stadium freebie depicts Phoenix favorite Shawn Marion as a duck. Why? It's best not to ask too many questions when the Matrix is involved. Conversation piece for sure. It's sitting on top of your mantle for just $13, buy it now, after shipping.

The picture above is a picture of the jersey allegedly for sale. The eBay posting does not include a picture of the actual jersey you will be receiving, rather a couple of action photos of The Dragon. Word of advice: allow a little time to pass following that Dragic vs. Kyrie Irving and Derrick Rose matchup before donning this jersey. You should be good to go by the time the NBA season tips off though. Made by Spalding, all sizes available, and it's on your back for a buy it now price of $119 after shipping.

Start your daughter off on the right track by gifting her this Barbie Doll clad in Phoenix Suns gear. I'll let you do your own research, but it's widely known that Barbie Dolls are highly collectible, with some fetching six figures. Now it's unlikely that this offering will ever reach those figures. In fact it can be had for less than a twenty dollar bill after shipping, but for the Suns fan that feels like they already own every Suns related item that's out there, this could be an interesting addition to your collection.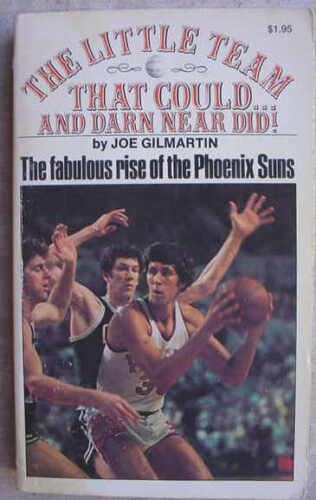 The seller writes that this is a tough book to find. I've no reason to doubt him, there are currently only four copies available for sale on Amazon. Still, this seller is looking to get over $80 for his copy, while three copies are available on Amazon for less than $12, another one is around $50. The Little Team That Could...And Darn Near Did, tells the story of the meteoric rise of your favorite NBA team, certainly a must have the library of any Suns fan.

Further proof that they will put an NBA logo on anything, is this cutting board up for sale on eBay. I have to say, it looks like a nice piece, unlike a lot of items they'll slap a team name on. Included is 1 wooden base, 1 tempered glass tray, and 1 cheese knife. It's described as "elegant." I'm a Suns fan and everything, but that's debatable. Maybe not best for the formal event you'll never have anyway, but it could make for an interesting piece at the tailgate. It's yours for about $60 after shipping.