If you're an adult, you probably shouldn't be hanging posters of NBA players in your bedroom.  This is great man cave material though.  If you're like me, you had Suns posters on your walls as a kid.  This is the one I can most vividly remember. Posters of the Chuckster were pretty common though.  Here are some Phoenix Suns posters from different eras that deserve a spot on your wall.  Maybe in the garage, anyway.

Sexy Rexy spent two years at the University of Kentucky before declaring early for the NBA Draft. Chapman was with the Bullets, Hornets, and Heat, before landing in Phoenix in 1996.  Rex quickly became a fan favorite, spent four years with the Suns, and gave you this. Several of these come up for bid on eBay, and based on past auctions the autographed poster with a COA after shipping can be yours for a twenty dollar bill.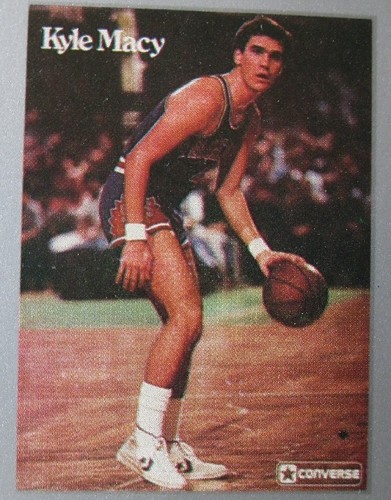 Like Chapman, Macy was also a Kentucky Wildcat, having transferred after spending his freshman year at Purdue.  He was a three-time All-American with the Wildcats, and was drafted in the first round with the 22nd overall pick by the Suns in 1979.  Macy played out the '79-80 season with UK before joining Phoenix.  In five seasons with the Suns, Macy averaged 10.6 points and 4.0 assists.  He would later spend one season each with the Chicago Bulls and Indiana Pacers.  He was one of the original participants in the NBA's Three Point Contest when it premiered in 1986.  This classic can again hang on your wall for $37 after shipping.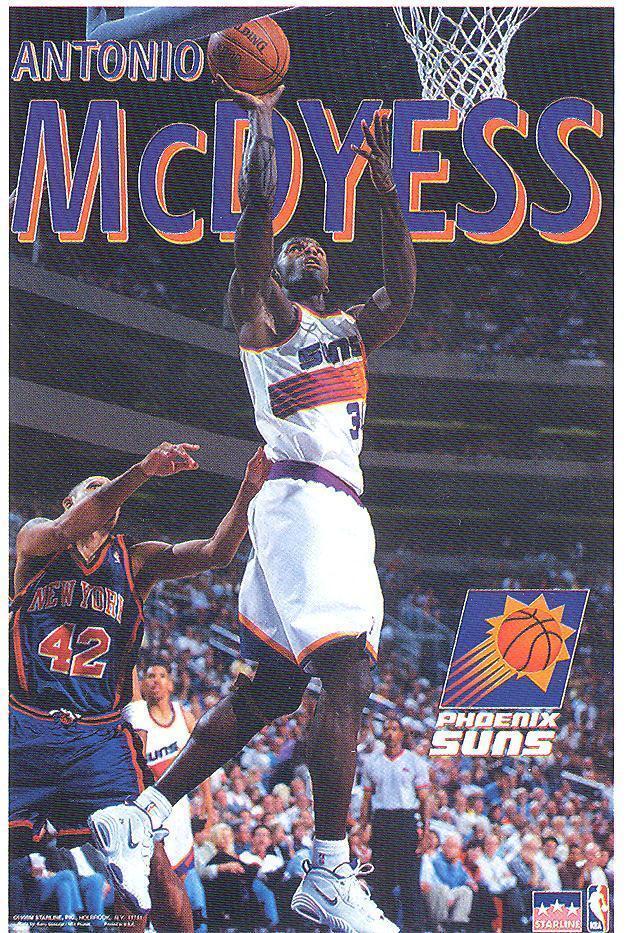 Most Suns fans will be familiar with the journey of McDyess, one that involved seasons spent in Denver, rather than in Phoenix, thanks to Dan Issel and the Colorado Avalanche.  Despite multiple knee injuries, the explosive McDyess carved out an impressive NBA career peaking with the Nuggets between 1998 and 2001, averaging 20.3 points and 10.4 rebounds in that span.  In total he spent just 109 games in Phoenix, making this poster somewhat of a rarity.  Reminisce on what could've been for just sixteen bucks after shipping.
Phoenix Suns Ring of Honor Posters (1) (2) (3)

Three of these are available on eBay, and yes I deliberately chose the goofiest picture to use.  Induction into the Suns Ring of Honor evidently means poster night as well.  The other two are Dan Majerle and Cotton Fitzsimmons.  Same seller, all listed for 10 bucks after shipping, but I'm willing to bet that if you email him he'll cut a deal with you.  The posting does mention that there are staple holes in the corners of each poster, which means that someone at one time did indeed hang up Jerry Colangelo and Cotton Fitzsimmons posters.  Hopefully next to each other.

This is a classic.  Fans of a certain age will remember the Sports Illustrated posters.  I had Don Mattingly's hanging in my bedroom.  Westphal ranks up there with the all time greats in Phoenix Suns history.  Seller claims that the poster is in excellent condition and it's yours for $21 after shipping.  I may need to buy this myself.  Westphal spent 12 years in the NBA out of USC, half of those in Phoenix.  He was a five time All-Star, three time All-NBA First Team, and had his number 44 retired by the Suns.  As a rookie head coach he also led Phoenix to the 1993 NBA finals.  Currently Westphal is an assistant coach with the Brooklyn Nets.