These certainly aren't scare on eBay, but rarely will you find so many available for purchase at once. Up for bid is a case of Phoenix Suns 25th anniversary Coca-Cola bottles, unopened. Each bottle is emblazoned with the signature of Jerry Colangelo. Shipping is going to run you twenty bucks, and bidding starts at fifteen, although you can end the auction early with a fifty dollar bill via buy it now. You can finally do something for somebody else as well. All proceeds go to benefit the Verde Valley Sanctuary, for abused women and children.

The Phoenix Suns are good with the stadium giveaways that are a little different than the norm. Up for bid here is a replica Amar'e Stoudemire locker from the 2006-07 season. STAT's was the first given out that season, followed by Shawn Marion, Raja Bell, Boris Diaw and Steve Nash. It looks like a stand is included, capable of displaying all five lockers, so you had better just go find all five. Free shipping, so for 14 bucks it's all yours.
I see these all the time, but often there's a medallion or two missing. This is a collection of Phoenix Suns 35th Anniversary medallions, complete with a display case. Again, these are not particularly rare, but certainly a must have for the collector of Phoenix Suns memorabilia. I've got some insider information for you. This has actually been posted on eBay multiple times, and has yet to sell. Shipping is free, so you may be able to grab these for the minimum bid of thirty bucks. You can also take the guesswork out and just pick it up for the buy it now price of $45.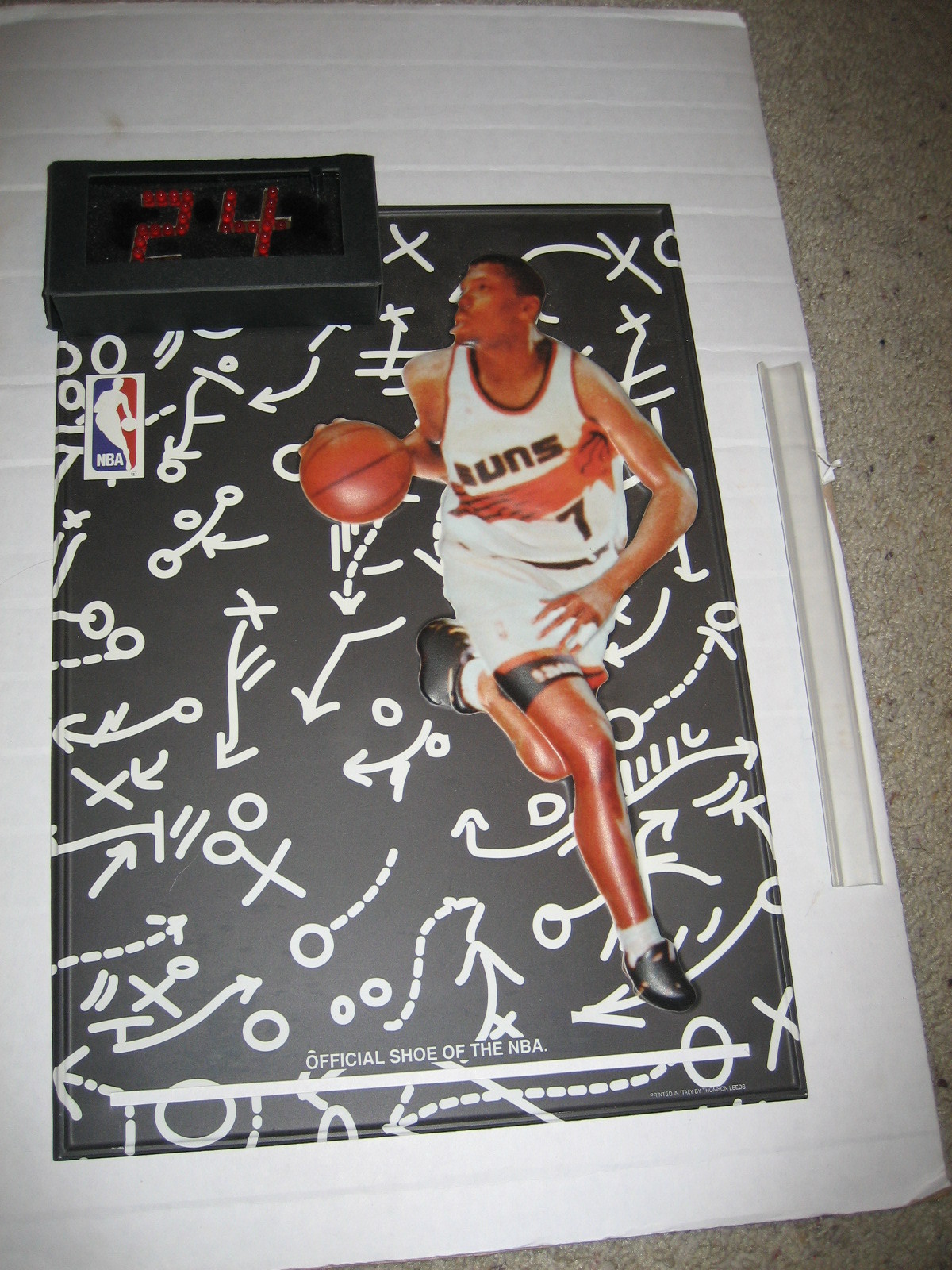 This could be cool if you can get it to work. The item is an advertisement featuring former Suns guard Kevin Johnson. It actually features a 24 second shot clock that lights up. The seller seems to think it's a pretty easy fix to get this piece up and running again. If so, it could make a nice, inexpensive addition to the man cave once basketball season rolls back around. You can take a gamble on this vintage advertisement for about twenty five bucks after shipping.

I'll bet you don't have this bobblehead in your collection. This is "Ubie," who sadly was forced to wear the jersey of Stephon Marbury. With the bloody bobblehead, you get a blank certificate, so if you're a real dirt bag, you can tell people that you obtained Ubie after giving blood. Like the medallions, this is something that seems to always be available, or at least reposted, on eBay. Hop on it now and you can have Ubie next to your Amar'e Stoudemire locker for about twenty bucks. If you take the buy it now route, then you're looking at about $35 after shipping.