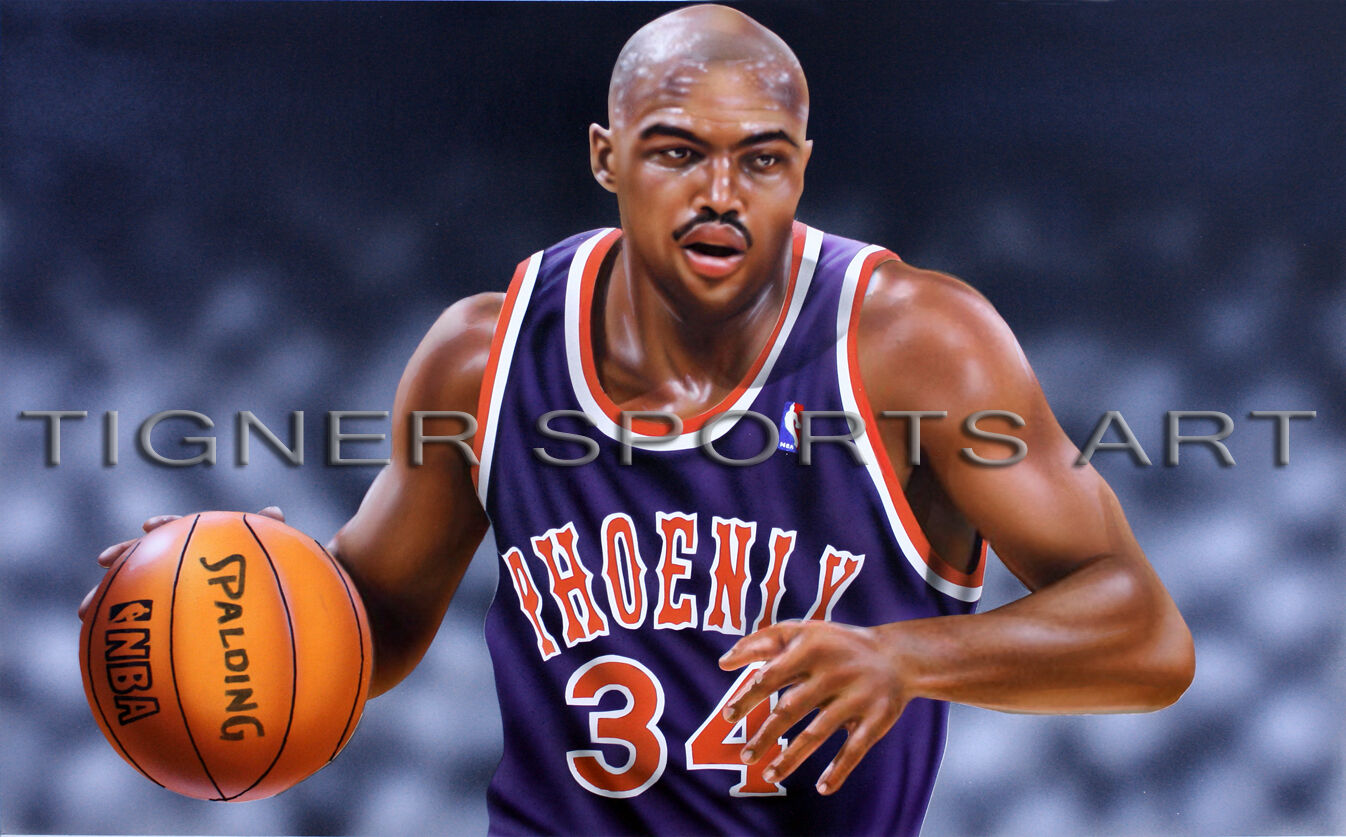 First things first, if you are somebody who has $2,750 burning a hole in your pocket, jump on this offering immediately. By the time Suns Swag posts on Friday, you'll have about 3 hours to win the auction. Shipping is on the house. This is a one of a kind Charles Barkley painting, autographed by the Round Mound of Rebound himself.  A little bit about the artist, pulled straight from the eBay page:
"Justin Tigner is a sports artist who has painted some of the most famous moments and athletes not just in the Northwest, but worldwide. He has helped fundraise thousands for the Muscular Dystrophy Association (MDA), Patty Mills' Assist Australia, The Foundation Batum, The Brian Grant Foundation, along with helping the University of Oregon Clubs generate scholarship money for student athletes at U of O."
So it sounds like he's a hoops fan, if that makes the price tag any more palatable. Now there's less than 3 hours. Go.

I'm constantly amused by anything related to Stephon Marbury. It's hard to have real "sports hate" for the guy, he's just a funny character. His time in Phoenix was interesting. Starbury played three seasons with the Suns, averaging better than 20 points and 8 assists and being named All-NBA 3rd team in 2003. This newspaper clipping recognizes the highlight of his stay in the desert, a buzzer beating three pointer to take Game 1 against the San Antonio Spurs in the first round of the 2003 playoffs. It's ten bucks after shipping, although you can probably get it for as little as seven. It's laminated, and for a ten dollar bill, it's worth putting on your wall. I admit, I don't know what your time is worth though. I will however, save you a YouTube visit:

Nik from Slovenia is giving you the opportunity to own a game used piece of Phoenix Suns history. Goran Dragic wore this jersey in Game 2 of the 2010 Western Conference Finals against the Los Angeles Lakers. Obviously Phoenix did not advance to the NBA Finals in 2010, and the Lakers took Game 2 from the Suns at the Staples Center. Dragic was on the floor for 15 minutes, tallying 3 points, 2 assists, 1 rebound, and 1 steal. For about $3,500 it can be yours.

Recently we posted an autographed Charles Barkley book on Suns Swag that was quickly snatched up by a loyal reader. Today we're giving you another opportunity to add to your Phoenix Suns bookcase. This time it's a signed copy of "Victory," by former Suns forward A.C. Green. All around good guy Green played 16 seasons with 5 teams in the Association, chiefly with the Lakers. He spent four in Phoenix, from 1993-1997. This book guarantees to give you "the principles of championship living," a claim we are not prepared to dispute. The book is signed, "To Simon," so Simon, if you're out there, this can likely be yours for about 13 bucks. Simon was the 229th most popular boys name in the United States last year, we won't hold our breath.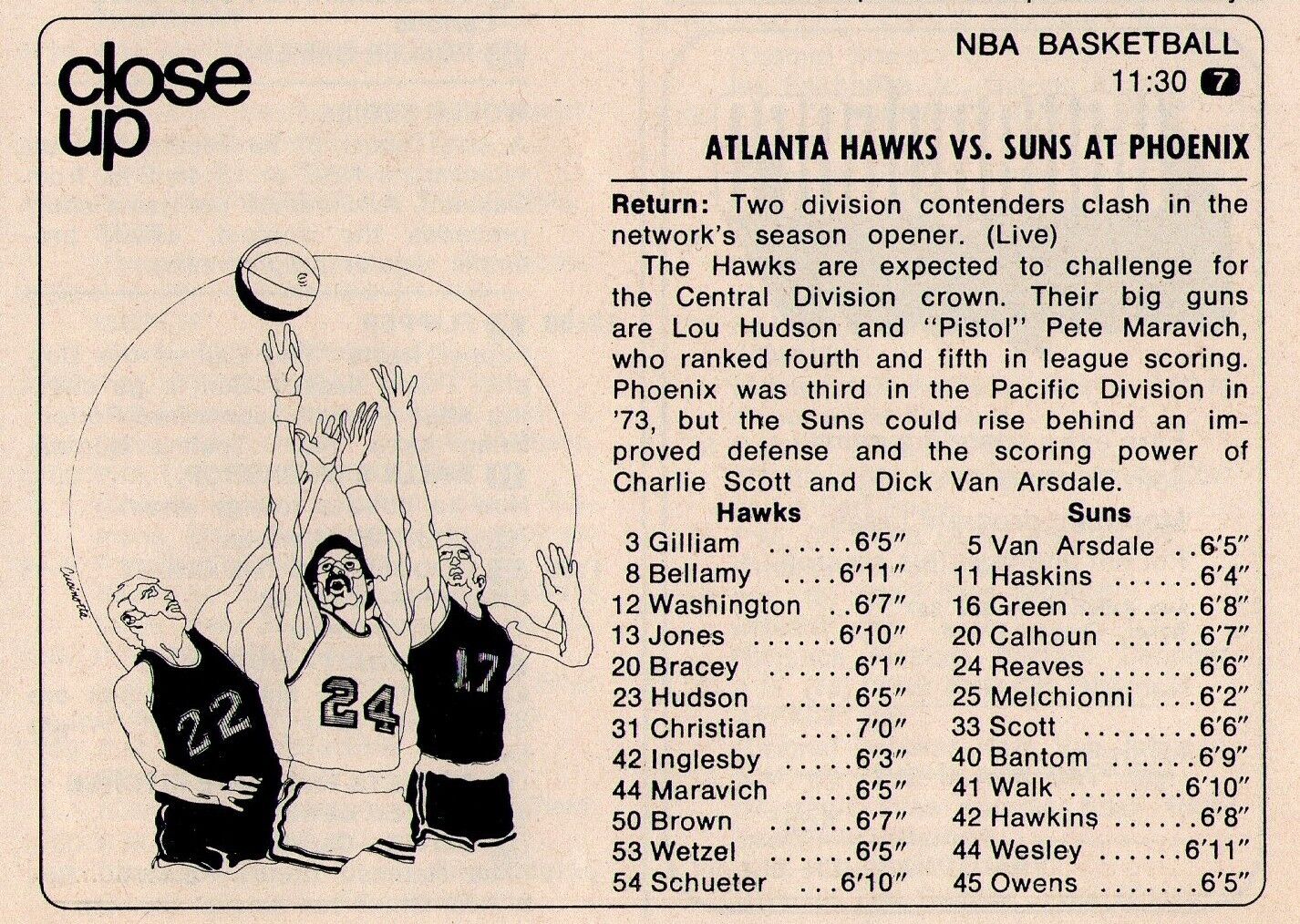 I think this is super cool, and the best find of the week. This is a television ad from a TV Guide for a Suns vs. Atlanta Hawks matchup on October 20th, 1973. Included are the rosters for both squads. Phoenix took this one, with Dick Van Arsdale pouring in 37 for the Suns. The Hawks got 36 from Lou Hudson, and 25 from "Pistol" Pete Maravich. The full page is shipped boarded and bagged, and the seller lists the item as being in "wonderful condition." No Buy it Now option, but if the bids don't roll in, you can get it for less than 10 bucks.